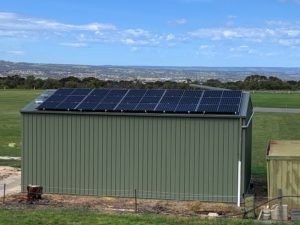 If you haven't seen this month's BUZZ you might not have even noticed the new solar panels on the tractor shed.  From the field they are invisible but they are already making a big difference for the club.  I remember a discussion on the committee where the monthly cost of electricity was getting high enough that we discussed unplugging the drink machine to save money.  We have been paying about $400 a quarter, and it looks like the new solar installation will eliminate $1600 in expenses if it performs as expected.
As our Treasurer Geoff Haynes said in an email to me, "I love these cost-reducing projects and fund-raising events, because they make it possible to avoid membership fee increases, thus maximising retention."  Geoff drove a lot of the tech discussions and is monitoring our savings daily from his smart phone.
Thanks to Ian Faulkner who wrote the grant proposal for our successful application to Marion Council. Most of the cost of the purchase and installation was funded by the grant.  Ian also organised the DEW approval and countless quotes and proposals to get this project done.  And of course thanks to Marion Council!