Phoenix
Software Update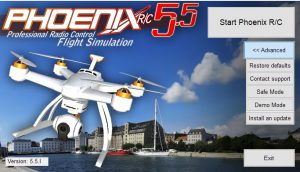 If you are currently running Phoenix version 5.0, you can update to version 5.5 by downloading the file below. Note that this update does not work with versions below 5.0.
Once you save downloaded the update package, start Phoenix and go to the "Advanced" section in the initial splash window. Click on "Install an update" and then highlight the update package file in the folder where you saved it.
Download Phoenix 5.0 to 5.5 Update
HMAC Site Scenery for Phoenix
You can download the HMAC Site Scenery by clicking on the link below. Once you have downloaded it, extract the contents to the "Sites" folder under "PhoenixBuilder\Test" in your "My Documents" folder, i.e. "Documents\PhoenixBuilder\Test\Sites". You should then see a folder called "hmac6" in the "Sites" folder.
Start Phoenix Simulator. You should now be able to change the flying site to HMAC6 which appears at the bottom of the list under "Testing".
Download HMAC Site Scenery for Phoenix
There is also some useful information about Phoenix here:
https://www.rc-thoughts.com/phoenix-sim/
Multiplayer Mode
Since the company that developed Phoenix is no longer in business, the multiplayer servers have been decommissioned. We have investigated a local option to provide multiplayer capability, but the technical skills needed to set it up make it impractical for general adoption. If you would like to experiment with multiplayer mode using a Virtual Private Network (VPN) client, you can visit  https://www.flugsimulatoren.ch for more information. Thanks to Martin Schrämli in Switzerland for his work in providing this facility.
RealFlight
HMAC Site Scenery for RealFlight
You can download the HMAC Photofield Scenery for Realflight by clicking on the link below. After downloading the file, extract the contents and import the RFX package using RealFlight's Import menu option.
NOTE: This scenery is a work in progress and has only a few collision objects incorporated. Updates will be uploaded to this web page as they are produced.
Download HMAC Photofield for RealFlight
Multiplayer mode
If you wish to participate in multiplayer mode with other HMAC members, first check to see if someone is already hosting a multiplayer session called "HMAC" by choosing the "Join" option under the Multiplayer menu. If so, then you can go ahead and join it.
Otherwise, choose the "Host" option, call the session "HMAC". Other HMAC members can subsequently join your session by recognising the "HMAC" session name. You should also choose the HMAC Photofield as the selected airfield prior to starting the host session, to make the experience more realistic.
It is also a good idea to display a consistent "welcome" message for the HMAC host session. We have prepared one that you can download below. Unzip it and save the ServerMessage.txt file in your Documents\RealFlight<x>\multiplayer folder.
Download HMAC Server Message file