Join the Club!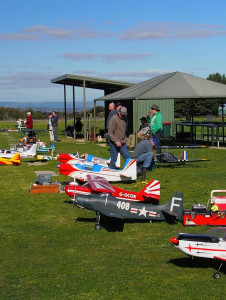 Building and flying radio-controlled aircraft is a rewarding and enjoyable hobby for people of all ages. Your initial thought might be that you don't possess the skills or patience, but it is not as difficult as you may think. You can now buy "ready to fly" models that require no construction and have built-in stabilisation to make the flying experience stress free and enjoyable. To make the entry even easier, our Club offers a free training program that lets you use our state-of-the-art models and radio equipment, so you don't need to buy anything to get started.
Once you become more proficient, you can then decide to purchase your own model and radio, confident that it isn't a wasted investment. As a Club member, you have the opportunity to share your interest with other like-minded hobbyists who will gladly share their knowledge and experience with you. You can progress at your own pace, choosing to remain a leisurely flyer or join in various levels of competition ranging from pylon racing to aerial combat, pattern flying and aerobatics.
So come along to the field on any Sunday morning, make yourself known – you will be more than welcome. We can get you started straight away with some free flying lessons and provide you with more information on how to join the Club and avail yourself of the associated benefits.
Follow these links for details of our Low cost Integrated Flight Training (LIFT) program and membership information:
About the LIFT Program
Membership Information
Application Form
---
HMAC is in the Adelaide Metropolitan Area fire ban district.
Members need to be aware that DEWNR will close the O'Halloran Hill recreation park and hence our field on catastrophic fire danger days and may close the park on extreme fire danger days. Under the terms of our lease we are required to comply with any such closures. In any case it makes good sense to do so.
CLICK HERE to view the current CFS Fire Danger information.
DEWNR also posts park closure information. CLICK HERE to view.
---
Proudly sponsored by